Some customers have written personal thank you notes following completion of a job. Others have recommend SM Services on various on-line forums, a sample of some notes and recommendations are included here.
(individual addresses have been removed for data protection purposes, however all originals are available for validation.)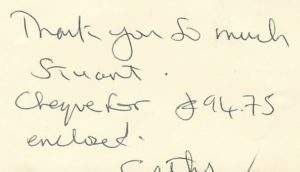 ---
Streetlife was a social media forum for local neighbourhood discussion, including recommendations for reliable tradespersons. Some Streetlife recommendations for SM Services include the following; (During early 2017 "Streetlife.com" was sold to a similar type of forum "nextdoor.co.uk". So these references may no longer be accessible online).

(The above screen shots were all publicly accessible prior to the Streetlife/Nextdoor sale.)

nextdoor.co.uk also has provision for recommending tradespersons, such as:


(The above screen shots from nextdoor should still be publicly visible.)
---

Also recommendations are possible via the SM Services listing on yell.com:

---
Between Nov 2005 and Nov 2010, SM Services was a member of the UK Trades Confederation. Due to limited commercial benefits, membership was ceased after 5 years. However whilst a member, numerous UKTC customer feedback forms were returned, with evaluation of SM Services work. A sample of these form follow.
(Again addresses are removed for data protection purposes. Originals copies are available for validation.)












---
Complaints:
As an NICEIC registered contractor SM Services must have a formal complaints logging procedure in place. In addition to this customers can go directly to the NICEIC website to register complaints relating to electrical safety or non-compliance with BS7671: niceic.com/householder/complaints (No formal complains have so far been received.)
-{page end 22Jan21}-