SM Services, coronavirus work practices and risk assessment. (last updated September)
---
Initial government guidance to minimise risk and danger to the population and reduce the spread of coronavirus and

protect the NHS, was summarised at the start of lockdown on 23/3/20. Some laws were introduced allowing the police to enforce requirements to reduce the spread of the virus.
current government guidance can be found at Gov.Uk/Coronavirus
As a self employed, sole trader, providing electrical installation and maintenance services, SM Services has limited scope to undertake "working from home".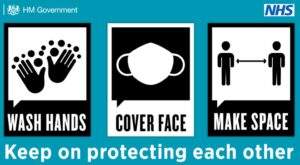 SM Services has continued to be available to undertake any work that can be conducted in a safe manner by mutual agreement with all parties involved.
All workers, including the self employed have a legal duty to comply with the "Health And Safety At Work Act" which includes requirements for risk assessment of each workplace and job. Coronavirus has introduced additional risks that need to be assessed and suitable precautions to be implemented. Government guidance is available: gov.uk/guidance/working-safely-during-coronavirus-covid-19/homes
---
The framework of SM Services risk assessment is mutual agreement of the following points:
The proposed work cannot be undertaken remotely via homeworking.
No persons residing at my home has had any known symptoms, or been in contact with any other person who has had symptoms of Coronavirus.
No person living at the proposed work place address has had any symptoms, or being in contact with anybody with any symptoms of Coronavirus.
There are no practical limitations preventing the work to proceed whilst adopting 'Social-distancing', as per government guidance between persons at the property.
Suitable PPE is available to be used as required.
If any Coronavirus symptoms do later become evident in either party, or any members of their household within 2 weeks of the work date, then both parties shall contact the other immediately, so that any appropriate isolation procedures can be adopted.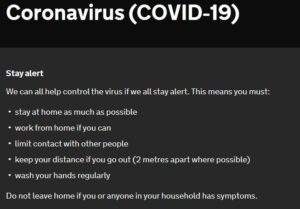 -{page end 20Sept20}-